A three day in company course
Purpose:
• To leverage the strong competencies and drive/passion of your employees.
• To increase your company's impact on doing business with your counterparts by personal initiative through pro-active contributions towards all stakeholders.
Learning Objectives (among other):
• Develop stakeholder analysis and adjust your communication plan accordingly;
• Analysis of own communication; outlining areas for development and improvement;
• Improving persuasive communication and listening skills;
• Learning how to synchronize definitions;
• Improving presentation skills for a variety of (target) stakeholders;
• Identifying body language in combination with verbal communication;
• Understanding the importance of formal and informal networking and socializing;
• Anticipating on and effectively reacting to existing Team Cultures.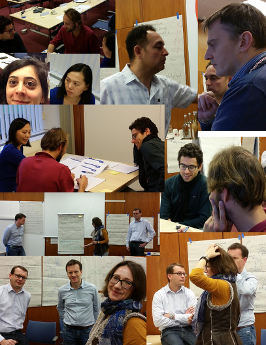 Course Topics:
After having received the profile sheets a final detailed program will be created based on your wishes and needs. Topics can be easily inserted or exchanged. We offer a wide range of modules from which we will operate.
E.g.:
Preparing Stakeholder Analysis
Essential Skills for interpersonal/intercultural communication,
Preparing for Business Presentations,
Learning how to be Persuasive; influencing without authority.
Time Management, Negotiation Skills, Conflict Resolution, Team Building/Repair, Meeting Skills, Dealing with an Overload of Emails, etc.
All topics will be addressed as well in theory, as in exercises. The course is very interactive, during which participants will be kept on their toes due to a mixture of challenges, and practicing the explained skills. Most of the active parts will be recorded and evaluated either in the whole group or individually. All video files will be shared with participants and erased from our hard disks afterwards.